Merchant Navy Day
Since 2000, Merchant Navy Day on 3rd September has honoured the brave men and women who kept our 'Island Nation' afloat during both World Wars, and celebrated our dependence on modern day merchant seafarers who are responsible for 95% of the UK's imports, including much of the food we eat, most of the fuel we burn and virtually all the products and goods we take for granted!
M.N. Day September 3rd 2022
At the service at Tower Hill London, FMMC was represented by our Club Captain, Captain Timothy MacGuire and Captain Eric Tinney.
Guest of Honour was Admiral Baron West of Spithead. Music was provided by the Massed RN volunteer bands and service was led by Revd. Katherine Hedderly , vicar of All Hallows Church by the Tower. Parade President was Commodore David Eagles RFA.
This year, 2022, is the 80th anniversary of the famous WW2 Operation Pedestal Convoy to relieve the siege of Malta (German and Italian forces attacking) by merchant navy and RN ships in August 1942. Malta was awarded the George Cross for its bravery. Also the 40th anniversary of the Falklands Conflict.
Photos Below:-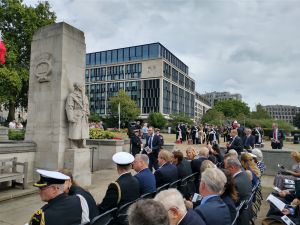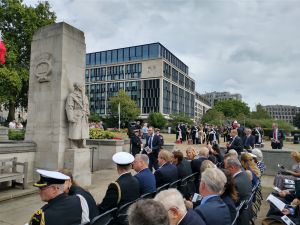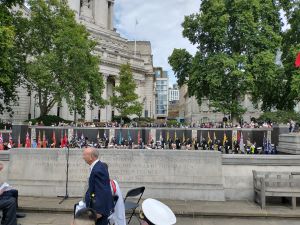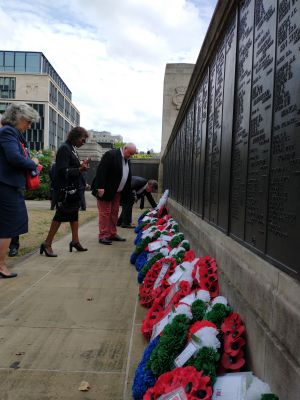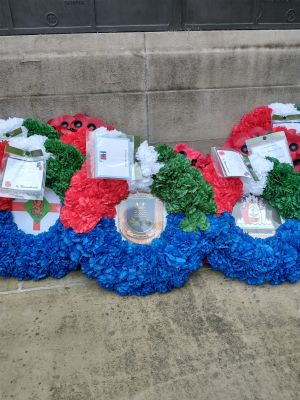 At Ipswich: The FMMC was represented by Capt. Timothy MacGuire & Capt. Geoff Hartgrove, Ipswich by The Mayor, Councillor John Cook.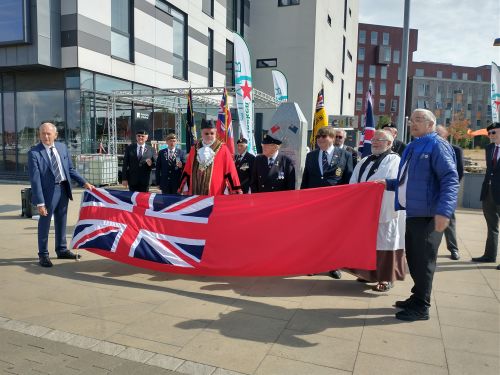 At Woodbridge Tide Mill flag ceremony, FMMC was represented by Capt. Timothy MacGuire, by Captain Geoffrey English for the Honourable Company of Master Mariners (Senior Warden), and by Richard Watkinson for Ipswich Merchant Navy Association(Vice-chairman). Woodbridge was represented by the Mayor of Woodbridge's representative and Woodbridge Town Clerk..